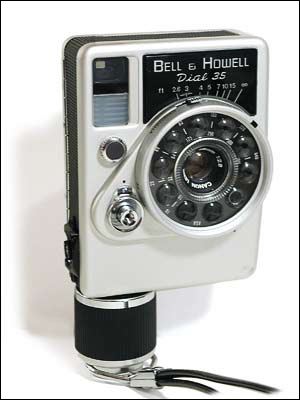 Bell & Howell Dial 35

MANUFACTURER: Canon Inc.
NATIONALITY: Japanese
PLACE MANUFACTURED: Japan, Tokyo
INTRODUCTION DATE: October 1963
FILM TYPE: 35mm rollfilm
IMAGE SIZE: 18 x 24mm
FUNCTIONAL TYPE: 35mm (other)
INTEGRATED SHUTTER: Yes

Half-frame 35 with automatic film advance via wind-up spring motor. The name refers to the circular placement of the Cds meter cells around the front of the lens, which resemble a telephone dial. Film transport is vertical so that the normal picture orientation is horizontal (most half-frame cameras have a horizontal film transport so that the normal picture orientation is vertical). Has a convenient wrist strap for carrying.