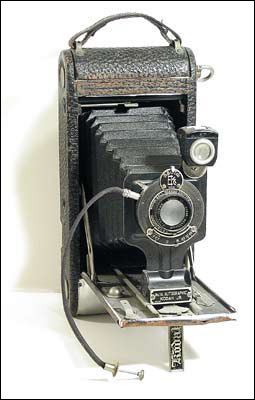 Kodak 1A Autographic Jr.

No.1 Autographic Kodak Junior
Manufactured : 1914-27
Lens : Various
Shutter : Various
Quantity Made : 800,000+
Original List Price : $23
Film Size : 120
Negative Size : 6x9cm

This camera has a Rapid Rectilinear lens in a two speed Kodak Ballbearing Shutter. The brilliant waistlevel viewfinder folds up when the camera is collapsed and focussing is achieved by three preset stops on the scale on the left side of the baseboard. It takes pretty interesting photos, scroll down for a sample.